You know that Diabetic Cats in Need is one of my favorite cat rescue groups.  How could I not love an organization that has helped over 600 diabetic cats like me?  They shared the story of Lacey, who urgently needs a home.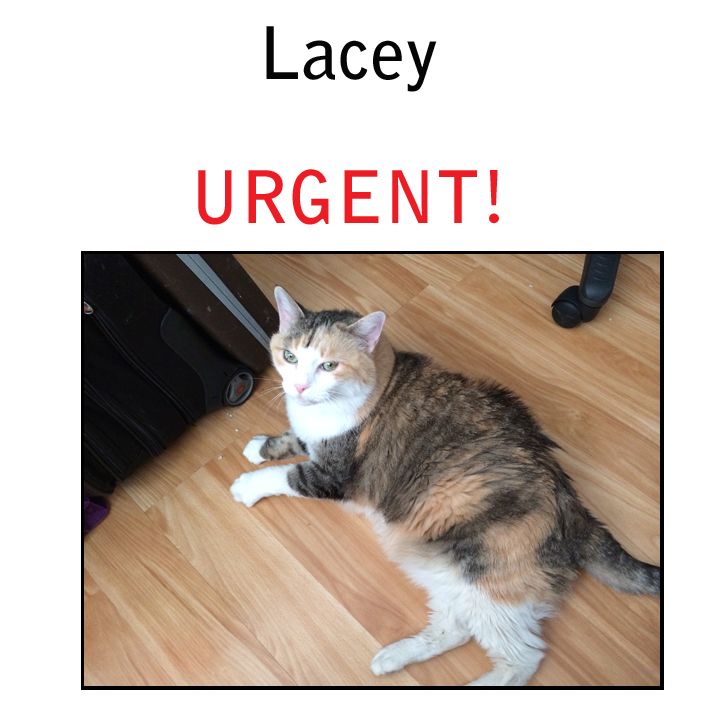 Lacey is in Keller, Texas, which is near Fort Worth.  Animal Advocates of North Texas let Diabetic Cats in Need know about this feline, and they spread the word about her.  She urgently needs a home.  Without an adoption commitment, Lacey only has a few days left.
In many cases, diabetic cats like me are let go because the humans involved do not wish to spend the extra time that's needed to care for us.  I cannot be upset about humans who do not have enough green paper things to care for a diabetic cat.  But I do get upset about humans who have enough green paper things to care for a diabetic cat, but choose not to because it is inconvenient.
This is not what has happened with Lacey.  Lacey is a 12 year old calico who receives two shots of insulin per day.  Her human loves her, to the point where her human endured her allergies to cats so that Lacey could be well taken care of.  This human has taken care of Lacey since she was a kitten.
The human's mother had a stroke, and moved in.  She is allergic to felines, too.  But because of the stroke, the humans in white coats who treat other humans said that Lacey cannot stay.  The allergies, combined with the stress from the stroke, are just too much.
Lacey's human does not want to give her up, but the health of her mother is at risk.  She is will to give whoever adopts Lacey a full supply of insulin, syringes, litter, and food.  But she needs to find Lacey a home soon.
I cannot be angry at this human.  Her mother's health is at risk and she must part with Lacey.  But Lacey deserves a good home.  Can we help Diabetic Cats in Need and Animal Advocates of North Texas find her one?
If you cannot take in Lacey, please share her story so that someone else can.