My good furiends at Michigan Cat Rescue have done many wonderful things for felines.  Remember how they rescued my fellow felines Bindy, Treasure, and Christmas Carole?  These felines owe their lives to the very kind humans at Michigan Cat Rescue.
Michigan Cat Rescue recently highlighted a black and white cat named Abby.  When I first joined my human, he had a black and white feline he named Pepe.  Pepe was nice to the human, and he was okay with me, but he was very cautious about who he trusted.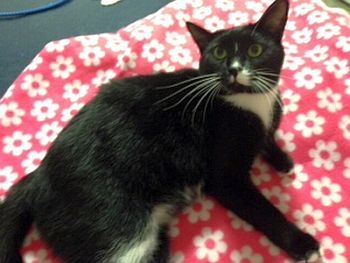 That is not the case for Abby.  This sweet black and white cat is very sociable and loves to talk.  She loves being around humans, and enjoys hopping into human laps to relax and show some love to her humans.
This "super sweet" black and white cat was pulled by Michigan Cat Rescue from a high kill shelter when she was sick and pregnant.  She was suffering from a respiratory tract infection, and was so malnourished and weak that she sadly lost her litter.
Since saving this sweet feline, Michigan Cat Rescue has nursed her back to health.  Abby has been healthy and looking for a furever home for a while now.  She's around a year and a half old, and she's got a lot of love to give for a long time to whatever lucky human brings her home. 
While Abby is great with humans, she needs to go to a home without any canines, because she doesn't like them.  And Michigan Cat Rescue cannot ship, so whoever adopts her needs to be close to them.
If you are close to this wonderful rescue organization, you can personally meet with Abby at the adoption event they are holding on Saturday from 11 AM to 1 PM.  If you cannot take her home, you can always donate food or litter to Michigan Cat Rescue at that event.
If you cannot find a place in your home for Abby, please share her story so that someone can.  Let's find this sweet girl a home!